Book Review: Reader's Digest, The Weekend Gardener
---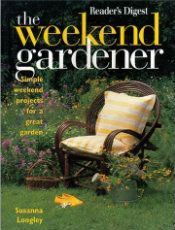 I love buying used books and recently found a copy of Reader's Digest The Weekend Gardener by Susanna Longley at the used bookshop in Waxhaw, NC. Our property has very few projects that can be completed in a weekend, so they often get put off until later...when we will somehow find more time. The projects in this book were particularly appealing to me because they gave me ideas for some small projects I can complete that will certainly make things look prettier around the yard until the big projects get tackled.
Early disclaimer...I have no relationship whatsoever with any of the sources that sell this book. I think it is probably one of those books you might find in a library and it is on Amazon for very low prices. It was published in 1998, so may be a little difficult to find new, but the book is a great resource for new yard owners as well as those of us who have a little more experience. It's worth picking up if you run across a copy.
The author, Susanna Longley, is a qualified horticulturist and she takes the landowner step-by-step through the basic process of analyzing the soil and building a beautiful yard. Illustrations are plentiful and give a nice visual representation of materials needed for the projects and the steps necessary to complete them.
The chapters are:
Gardening Basics
Containers
Lawns
Paths and Paving
Walls, Fences and Hedges
Beds and Borders
Themed Gardens
Plants for Different Purposes
A few of the projects are actually great for those without yards. Susanna has a chapter on planting in and arranging in planters. The first project I plan to tackle is a portable growing box with trellis that is intended to provide a natural screen. While it is large, it is perfect for decks and patios with no privacy and the ivy and roses she suggests for the box will grow faster than trees and shrubs I have planted for a privacy hedge.
There are other ideas that will certainly take longer than a weekend to complete, but can be done in steps that are completed in a weekend. I often get overwhelmed with the size of our projects. The size of the price tag doesn't help either! It's nice to be reminded that it is ok to break these projects down into manageable steps.
If you get a chance to pick this book up at the library or a used book store (brick and mortar or online) it is worth flipping through for some pointers and quick project ideas.
What gardening book have you added to your bookshelf recently? Anything i need to take a look at?